shapes and magnets
Shapes are all around us!  The question is, do we see them?  If we see them, what can we do with them?
As I am an upcycler, I cringe at the thought of throwing something away because it is "useless."  So, buttons have always been a challenge for me.  What do you do with them that is useful?  My first answer was flower magnets.  After a while I began to explore more shapes that I could make with buttons.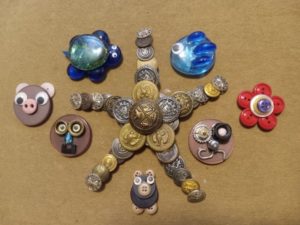 Learn about shapes and what they are called. Experiment with shapes! What can you make out of circles? Add some triangles or boxes or ovals. Look at pictures in your coloring books. Can you recognize any shapes in those pictures? Draw with Grandma can help you learn shapes. Shape bingo games can help too.