Description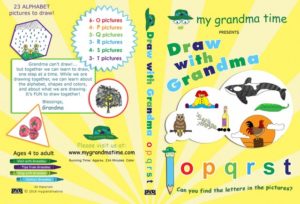 GRANDMA CAN'T DRAW! But, together we can learn to draw, one step at a time. While we are drawing together we can learn about the alphabet, shapes and colors, and about what we are drawing. IT'S FUN TO DRAW TOGETHER! Both the upper case and the lower case English alphabet letters are used in the pictures we draw, along with the different letter sounds. Besides learning basic shapes and colors, these skills will be encouraged: Creatively Seeing and Experiencing Shapes; Sequencing and Following Directions; and Pre-writing/Beginning Drawing Skills.
DRAW WITH GRANDMA VOLUME 4
This DVD (volume 4) features 23 pictures using the letters O, P, Q, R, S, and T.