CLICK HERE TO BECOME A MEMBER ON GRANDMA'S "LEARN TO READ" WEBSITE.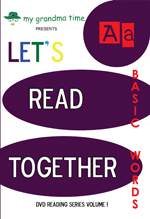 This video is included as a bonus on Grandma's
Let's Read Together BASIC A Words
DVD.
Many areas of the world sing the Alphabet song differently. Here are two versions: Chinese and American. This short song is just the right length to sing while washing your hands.

tags: The ABC song, The Alphabet Song, Chinese style, American style, sing with Grandma, learn to read with Grandma, Let's read together, abcdefg, Canta amb l'àvia, 唱奶奶, Chantez avec grand-mère, Singen mit Oma, おばあちゃんと一緒に歌う, 할머니와 함께 노래, Cante com a avó, Canta con la abuela, Kuimba na Grandma, sons de l'alfabet, 字母的声音, 字母的聲音, sons de l'alphabet, Alphabet Klänge, suoni alfabeto, アルファベットの音, 알파벳의 소리, sons do alfabeto, звуки алфавита, sonidos del alfabeto, sauti alfabeti, home school materials, home school reading materials,