CLICK HERE TO BECOME A MEMBER ON GRANDMA'S "LEARN TO READ" WEBSITE.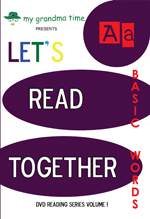 This song is included in the bonus materials of Grandma's
Let's Read Together BASIC A Words DVD

.
Use this song to learn the sounds of the vowels.  Grandma's video version uses the long vowel sounds.  You can also sing the song with the short vowel sounds.   Be sure to hold up the letter that you are using to help to make the connection between the sound and the letter.

tags: phonics song, sing with grandma, Let's read together, learn to read with Grandma, vowel sounds song, I like to eat apples and bananas, Canta amb l'àvia, 唱奶奶, Chantez avec grand-mère, Singen mit Oma, おばあちゃんと一緒に歌う, 할머니와 함께 노래, Cante com a avó, Canta con la abuela, Kuimba na Grandma, home school materials, home school reading materials,