CLICK HERE TO BECOME A MEMBER ON GRANDMA'S LEARN TO READ WEBSITE.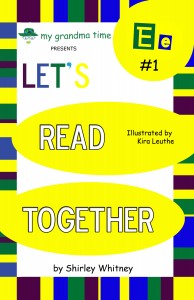 GRANDMA IS WORKING ON THE "E" SERIES and will add things to this page as they are completed. The following resources go with the
E series
and are in the order of their use on the DVDs and in the books
.
For information on how to use them
,
click here.
Click here
for more reading resources. The videos that go with this series will be available as
dvds
 when the series is completed.
CROSSWORD PUZZLES These simple picture crossword puzzles are based on the words in Grandma's E series books. Use them to review words, practice writing, and for comprehension. They are in the same order as you would find them in Grandma's books.

tags: Learn to Read with Grandma, The letter E, Let's Read Together, phonics, Learn to Read English, Shirley Whitney, Kira Luethe, picture crossowrd puzzles, simple word search, E word slides, E match games, aprender Inglés, aprendre anglès, apprendre l'anglais, Englisch lernen, imparare l'inglese, kujifunza Kiingereza, 영어 학습, 英語を学ぶ , 學習英語, 学习英语, home school materials, home school reading materials,